On Sunday, I had the opportunity to travel to Rio Dulce, Izabal department of Guatemala in the Caribbean Sea, thanks to Expanse. This town is very close to Belize. It borders Peten (the home of the Mayans) and Honduras.

The largest lake in Guatemala, Lake Izabal, has great forts and ports. It was a very important city at the time of the conquest, and is a mixture of Mayan and Garífuna cultures. Besides impressive landscapes, it is a door to the Caribbean. Beauty aside, it also has great needs in terms of health and education.

The group I traveled with is the True North Missions Foundation. It seeks to provide comprehensive medical care to children marginalized by the civil war that lasted 36 years until 1999.

There are more than 200,000 people who sought to live in remote places to avoid being persecuted, and today they have many needs. The United Nations recognizes them as "The Forgotten People."

From the city, it was a 10-hour bus trip followed by crossing the lake to stay at the shore of Lake Izabal then be ready for a week of challenges.
Every day for five days we travel to remote communities and give medical assistance. Children and women are mainly cared for; husbands are working all day.

The team consisted of five translators, five doctors, an emergency doctor, and a pharmacy with medicines for preventive care. Dr. Alan Barber, the forerunner of this organization, took charge of visits to homes of people who could not come to us due to the state of their health.
We went through five different communities, sometimes by water, sometimes by pickup and sometimes by walking great distances. In numbers:
We were a team of 15 people, each donating their time, doctors who came from the United States, local interpreters (Kekchi – Spanish, Spanish – English) and others helping.
All travel and transportation expenses are paid by True North Missions.
I traveled 680 km by bus and walked a total of 56 km in a week. I traveled by boat approximately 50 km to reach some communities.
We attended to approximately 500 children and adults in 5 days, from 9:00 am to 1:00 pm.
The clinic and pharmacy were set up at the community school.
The main problems were skin (mange and fungus), dehydration, dental problems and parasites.
There are no dental or extremely serious services, so these patients are referred to the health center. They usually do not go.
Each person was given a dewormer, toothbrush and vitamins for 30 days to the children; besides the treatment of the problem they had.
This mission is carried out two or three times a year in the most remote communities. All others have access to the health center.
Compelling quotes from the trip:
"If you are 5 min before, you are in time. If you are on time you are late and if you are late then you are not there."

Dr. Alan Barber.
"We are wasting the daylight."

Dr Alan Barber
"Some of us learn on the way to be entrepreneurs, but you always have to study to do it well. You have to go without fear for life and give it a try."

Olivia Interpreter Spanish – English.
"Respect and honesty open all the doors, you can spend all your money, but not others."

Marcos the Captain.
"In life you have to travel and discover, alone or accompanied, travel, the world is so small, if you don't tell me, what do you work for?"

Francisco interpreter Kekchi to Spanish and English.
---
There were many stories that I had to re-live, from a girl of 15 years with a baby of 2 who will surely have 8 children by the time she turns 40, to a girl with down syndrome without special care and many children with parasites or scabies. But all were very grateful that we were there and with a smile to give.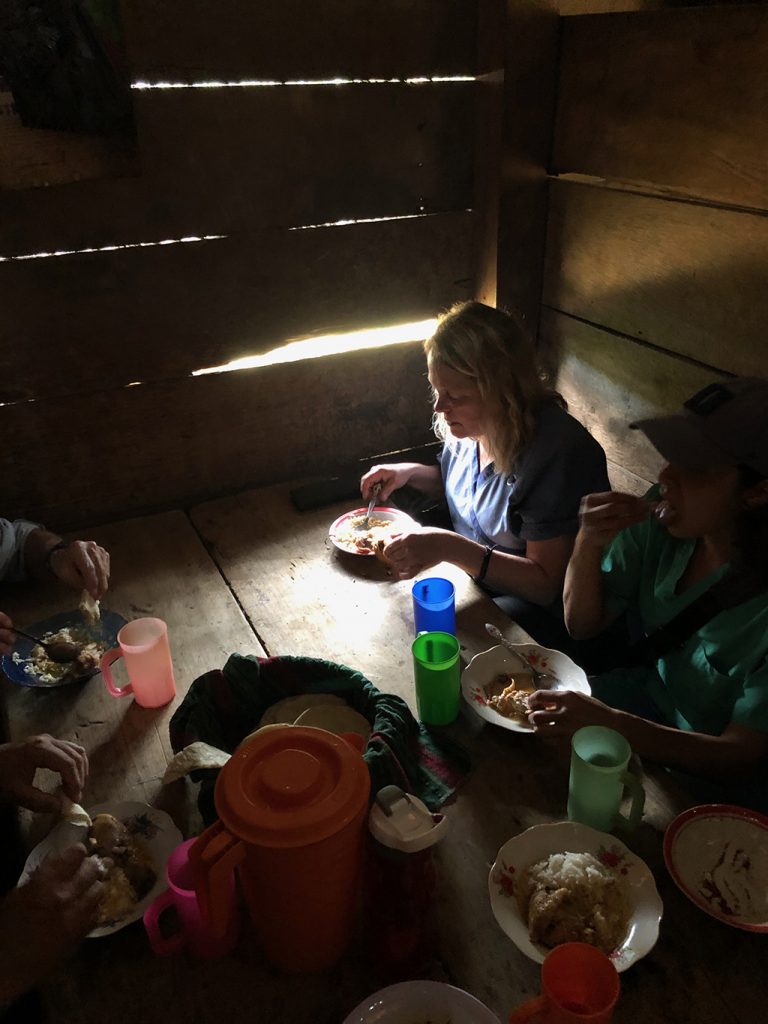 In the community we were given lunch, a chicken soup that should have 8 Michelin stars because it was made with love. I learned to be grateful. "It is not the same to have 100 and to give 10, as to have 10 and to give 10." When you can serve, do it.

Omar Alvarez
CCD – Expanse.