Here's an article submitted by Jitendra Rathod, newsletter contributing editor.

Hello dear community,
In this edition of "Behind the Tech" we are featuring Maryum Saeed, Expanse's Project Manager, who is based out of Islamabad, Pakistan.
Maryum has completed her post-graduation in Project Management from Bahria University, Islamabad, with specialization in Innovation and Technology Management. Prior to that she did her Double Majors (4-Year Bachelors Degree Program) in Software Engineering and IT from Forman Christian College University, Lahore, Pakistan.
Coming from an academically-inclined family, Maryum was always fascinated with technology. Growing up in an age that has gadgets around everyone, she wanted to learn what drove those gadgets. While everyone else her age were content using their gadgets, she was more interested to know what was inside them and how they worked.
After graduating in 2016, Maryum started working at the head office of the prestigious Beaconhouse School. She worked on one of the school's projects on Simulated and Immersive Environments. "That project was the actual beginning of my tech career. I worked there as an intern for 3 months and learnt as much as I could." At exactly the same time, she had planned to start her Masters in Management Sciences so she started her job and her studies, both at the same time. "I used to work from Monday to Friday for eight hours and on weekends, I had my classes for the whole day. So for the entire duration of my course, i.e., one and half years, I hardly got any time for myself. But I believe those years were crucial to my fledgling career as I got a taste of what it was like to be working in an organization, pretty early in life. And I was still studying. I believe I got a great, early head start."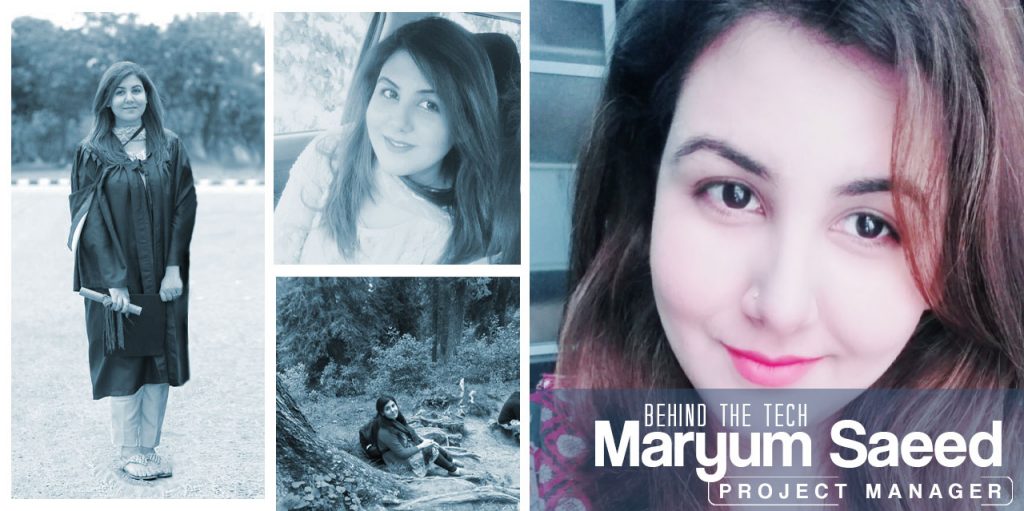 Maryum worked with two organizations before joining Expanse and since both of these jobs were of a general managerial kind, she had to stay away from technology for some time. After completing her post graduation, she had planned to switch jobs and that is when Expanse happened. "Initially, I found it pretty challenging, but I sort of slipped into the role easily. It was what I have been trained for – technology and project management. After all, challenges are what motivate you to learn more and make you a better professional. And at Expanse, I am working on projects based on cutting edge technology." Maryum has been with Expanse since eight months now and she is "loving every moment of it."
Maryum's role at Expanse is of a Project Manager on the various ongoing projects. Her major responsibility is to plan, assign, monitor and deliver the projects on time. She has daily meetings with the developers to assign and monitor their tasks and goals. "Although I am not directly involved in the project from a strict tech point of view, I am accountable for almost everything pertaining to the project. Project managers are the spearheads of a project and they ensure that the project is completed within the specified deadline and gets delivered to the client without any flaws." Maryum believes that the most challenging part of project management is keeping the client, developers and all the stakeholders on the same page and maintaining the near-perfect balance of time, cost and scope.
When asked about what excites her at Expanse, Maryum is quick to note the constant buzz of anticipation and the sweet sound of creativity in the air. "Ever since I came here, I find something new happening every day." She feels that there is always something new to learn and that is what keeps one moving ahead.
For Maryum, being focussed on one's learning curve is vital to individual progress. "For me, this is an almost perfect job as I am involved in managing projects that are based on current technologies – something I am academically trained in. And I constantly keep myself involved in learning as much as I can about new technologies through a lot of reading and by also learning from the developers as they work on the projects."
Maryum is quite positive about the future of the blockchain technology. "Personally, I believe that blockchain as a technology and all of its its varied facets will play a huge role in the development of both public and private sectors in the coming decade and no matter what people say, cryptocurrencies are here to stay." She believes that Expanse is working splendidly on some great projects and it is going to have a brilliant future ahead.
Maryum is thankful to the Expanse Management for giving her this opportunity and providing her a progressive environment that is conducive to so much learning. "Everyone is so cooperative and full of encouragement. I couldn't have asked for a better workplace." Maryum plans to pursue her studies after a few years of work experience and she is interested in getting her PMP certification. We, at Expanse, look forward to her expertise during her time with us and wish her a great future ahead when she goes about chasing her dreams.