---
The good news – SLIPS is ready! Check out slips.io. The team has burnt the midnight oil to create an awesome platform we are all proud of.

Next step? To be able to function as a full-fledged gaming site, they need a gaming license. Now, in the last newsletter, as also in Husain's Medium post, we had informed you that the process of acquiring a gaming license is a time-consuming and costly affair. From setting up a company in a gaming regulations-friendly country (Malta, preferably) to hiring legal assistance and paying fees for a license, it is a tough way ahead.
However, the team has found a clever, albeit temporary, workaround that would still allow you to play and bet on SLIPS. They have created a shop which they call the WarChest. They have just finished working on the design for the WarChest.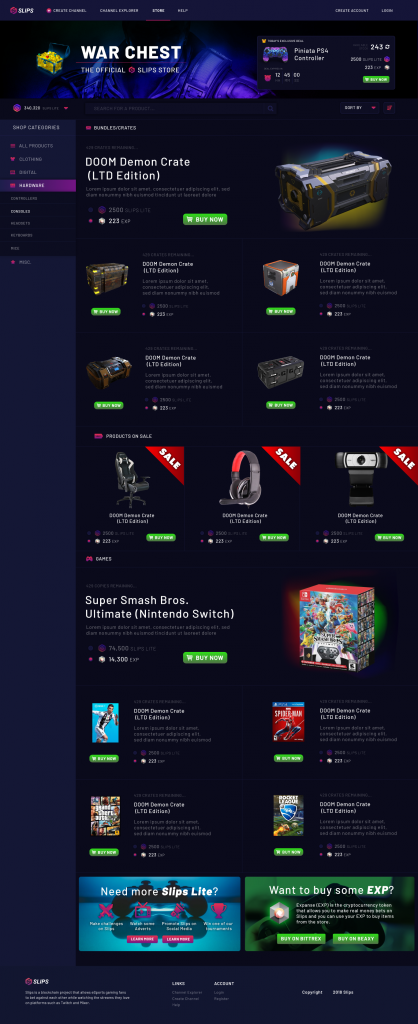 This is SLIPS' brand new shop that will be bolted onto SLIPS and lets you spend all your EXP and Slips Lite balances to buy cool stuff like clothing, hardware, games, etc.

We hear that it was Christopher's idea. While the team works its way around the gaming license problem, they needed a sink for people who buy and bet on the SLIPS platform with EXP (you can't yet withdraw it) so this shop concept was created.

There are some items in the store you can purchase with crypto and mark up. There will be other items that will be bought by SLIPS and offered to players in very limited stock (e.g., gift cards). Gaming fans will love things like crates, which give you a random probability of items. So hopefully this little feature will give SLIPS a way to go "live" and test the product out without running a full gambling shop.

There is obviously a lot of work to be done – building the CMS, APIs and the front end, etc,. – but the design, as always, looks great! Check out slips.io and do not hesitate to ask questions on the SLIPS Discord channel. We hope SLIPS gets all the regulatory licenses and starts a full-fledged gaming platform soon.